SDITE Mentoring Sessions:  Benefits of Professional Certification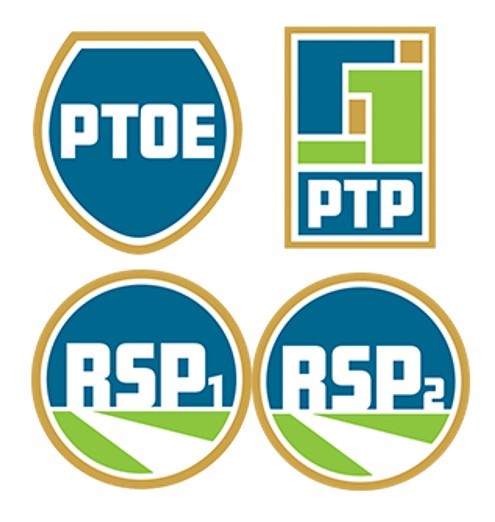 Date:  May 19, 2021
Times:  11:30 AM – 12:30 PM (CDT) / 12:30 PM – 1:30 PM (EDT)
Format:  Zoom Webinar
By Becky Rogers, SDITE Past President
All members are invited to join us for a free informal virtual panel discussion on professional certification for transportation professionals! Topics will include what certifications are available, how to apply and prepare for certification exams, and the benefits of professional certification. This discussion will primarily focus on the PTOE, PTP, and RSP certifications but may also briefly address PE licensure, advanced degrees, and other certifications such as IMSA, AICP, and PMP.
Sean Coleman (GAITE) will be moderating the session. Our diverse panel includes certification holders, a hiring manager, and representatives from the Transportation Professional Certification Board.
Please pre-register at this link to receive login information.
---
Tennessee / Deep South Sections of ITE
Date: Wednesday, May 26, 2021
Times: 8:30 AM – 11:40 AM / 12:30 PM – 2:30 PM/ 2:30 PM – 3:30 PM
Virtual Meeting – Zoom Webinar
Please plan to join us virtually for our Spring meeting on Wednesday May 26th from 8:30-3:30.  This free meeting will be co-hosted with the Tennessee Section of ITE. It will include two technical sessions with a total of six speakers. Separate business meetings for each section will be held after the second technical session. PDH certificates will be provided to those that attend.
The meeting will be held via Zoom. All meeting links will be provided in your confirmation email.
Schedule
Wednesday, May 26
8:30 AM – 9:00 AM       |  Welcoming Remarks
9:00 AM – 9:45 AM       |  Adam Moser, P.E. – City of Franklin / Beth Ostrowski, P.E. – KCI – Studying the Effects of Future Development Potential in the Cool Springs Area of Franklin TN
9:45 AM – 9:50 AM       | 5-minute break
9:50 AM – 10:35 AM     | Jaap Tigelaar – Arcadis – Bringing the Turbo-Roundabout to the US
10:35 AM – 10:40 AM   | 5-minute break
10:40 AM – 11:25 AM    | Jeff Branham, P.E. & Zach Roberts, P.E. – City of Knoxville – Knoxville's Signal Modernization Initiative
11:40 AM – 12:30 PM    | Lunch Break
12:30 PM – 1:05 PM       | Brandon Perilloux, P.E. Urban Systems –Louisiana Airport – (Title TBD)
1:05 PM – 1:40 PM         | Evan Wright, P.E. MDOT –Practical Applications of PG Routing
1:40 PM – 1:45 PM         | 5-minute break
1:45 PM – 2:20 PM        | Speaker #6 – TBD
2:20 PM – 2:30 PM       | Closing Remarks & Adjourn
2:30 PM – 3:30 PM       |  TSITE Business Meeting (Teams Call)
2:30 PM – 3:30 PM       |  DSITE Business Meeting (Zoom Call)
Click here for the Agenda: 2021 TSITE-DSITE Spring Meeting – Draft Agenda
To pre-register click here:  link.  We will also email out the zoom information closer to the event.  If you have not received a zoom link by May 21 please e-mail Jessica Dilley at jdilley@mdot.ms.gov.
***We are not charging for the meeting this year since it is virtual, but if you would like to make a donation to DSITE Student Scholarships, please visit our scholarship donation page!***
For Student Scholarship Donation, please select the donation amount in multiples of $10. 
Scholarship Donation:
---
---
Older Events: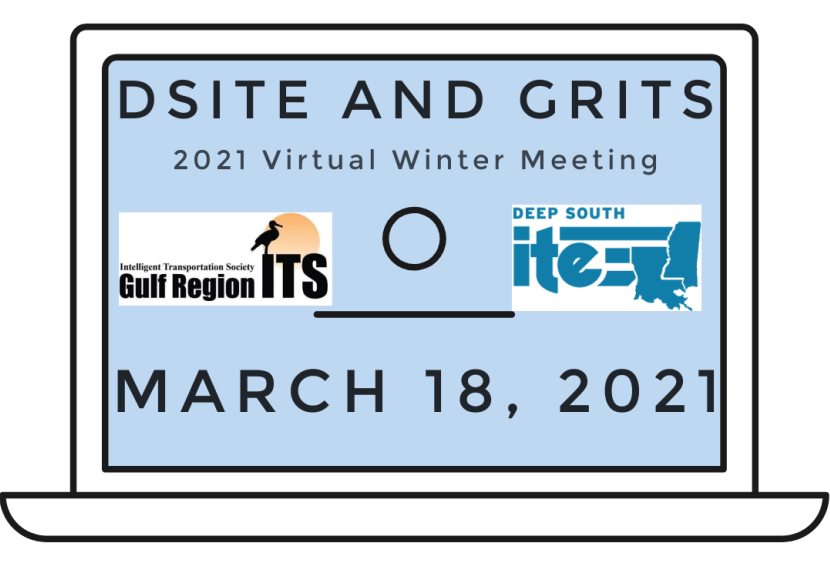 DSITE AND GRITS – 2021 Joint Virtual Meeting
March 18, 2021
Click Here for Agenda: Agenda
Email Jdilley@mdot.ms.gov for PDHs from the event
---
---