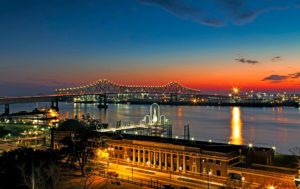 Please join us for the 2021 Fall Meeting December 9-10, 2021!
LADOTD Head Quarters
1201 Capitol Access Road, Baton Rouge LA 70802, US
AGENDA – draft
Thursday, December 9, 2021
Time
Event
8:30 AM – 9:00 AM
Registration
9:00 to 10:20 AM
Meeting Introduction and Welcome
Technical Presentation #1: Core Competencies of a Traffic Analysis, Modeling, and Simulation Practitioner
Chris Melson, P.E., LTAP
Technical Presentation #2: The DNA of Innovative Intersections
Smith Siromaskul, PE, HDR
10:20 to 10:30 AM
Break/Refreshments
10:30 AM to 12:30 PM
Technical Presentation #3: Discretionary Grant Changes in the Infrastructure Invest and Jobs Act
Josh Sullivan, Local Impact Analytics & Alex Pickle, Local Impact Analytics
Technical Presentation #4: I-10 Queue Warning
Luis Alvergue, P.E., Arcadis
Technical Presentation #5: Superstreets
Wayne Black, PE, Garver
12:30 to 1:30 PM
LUNCH
1:30 to 3:00 PM
Technical Presentation #6: SR 16 Corridor Study
Spencer Robinson, MDOT
Technical Presentation #7: The Intelligent Transportation Systems in Louisiana
Alaa Shams, P.E., LADOTD
Technical Presentation #8: Title TBD
Jonathan Kiser, PE, Kiser Traffic and Engineering
3:00 to 3:20 PM
Break/Refreshments
3:20 to 4:20 PM
Ethics
Richard Savoie, P.E.
6:00 to 9:00 PM
Red Stick Social
Social/Banquet
Social / Banquet – 6:00 pm -9:00 pm

Address: 1503 Government St, Baton Rouge, LA 70802
Friday, December 10th 2021
Business Meeting
TBD
Hotel Accommodations
Tru by Hilton Baton Rouge Citiplace – 2562 Citiplace Ct, Baton Rouge, LA 70808
For reservations follow the above link or call (225) 930-5110 and request the group rate for Deep South ITE (Code: DS1). Room rates are: $89 for One Bed Room. The room block cutoff date is December 1st.
REGISTRATION
---